Virginia Beach Reckless Driving Attorney
In Virginia Beach, there is a fine line between what may be considered a routine traffic violation and a reckless driving charge. Few drivers realize that a reckless driving charge is a criminal offense. The consequences for this misdemeanor charge can reach far beyond points against your license and a fine. That is why anyone who has been charged with reckless driving should speak with a dedicated Virginia Beach reckless driving lawyer.
Virginia Beach Reckless Driving Court Process
Experienced Virginia Beach Reckless Driving Lawyers Can Help
Across Virginia, there are well over 100,000 reckless driving charges and anywhere from 60,000-80,000 convictions logged per year. In Virginia Beach, there are close to 1,900 reckless driving charges every year. This adds up to about five percent of all traffic violations, including DUIs, that the Commonwealth prosecutes in a given year. If you are a driver from out of state and have been charged with reckless driving, a Virginia Beach reckless driving lawyer will be able to advise you on the particularities of these charges and potentially represent you in court in  your absence. An attorney will also know how law enforcement prove speeding, and will argue against those results.
Reckless Driving Explained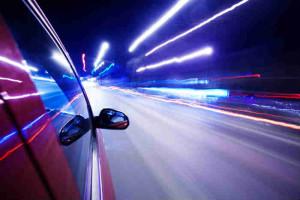 Reckless driving, in general, is defined as driving in a manner so as to endanger life, limb, or property. In fact, that definition is used under the statute as a form of a "catch-all" to allow reckless driving charges to be levied against those who normally would not meet one of the other defined categories.  There are specific examples under Virginia Law as to what qualifies as reckless driving. Depending on the alleged acts that gave rise to a reckless driving charge, a Virginia Beach reckless driving lawyer can help you build a defense. These include:
Passing an emergency vehicle that is driving with lights and/or sirens,
Not having properly working brakes,
Passing another car on a curve or at the top of a hill,
Passing two cars that are next to each other at the same time,
Two cars driving next to each other in the same lane,
Passing a car at a railroad crossing,
Not stopping for a school bus,
Not properly signaling when turning or stopping,
Not stopping properly when entering a highway from a side road, and
Drag racing
This is not considered an exhaustive list by any means and the general provisions under the law mean that countless other behaviors while driving can be considered reckless driving. A Virginia Beach reckless driving lawyer can provide further detail about driving behavior that may constitute reckless driving. Additionally, an experienced attorney will be able to explain the impact taking a driving class will have on someone's case.
Penalties for Reckless Driving in Virginia Beach
The potential penalties for a reckless driving conviction can be particularly problematic. Unlike traffic violations, such as a regular speeding violation or not making a full stop at a stop sign, reckless driving is a Class 1 misdemeanor. Being a misdemeanor, reckless driving is viewed much more harshly under the law, with higher penalties and a lifetime of potential problems.
Virginia Code Section 18.2-11 states that the penalty for any Class 1 misdemeanor can include up to a twelve months in jail and a fine up to $2,500. For those convicted of reckless driving, they also face a potential six month loss of license. Those so convicted also face getting points against their license, or the total revocation of their driving privileges, and a record of the conviction on their DMV record for more than a decade. It's important to note that a reckless driving charge incurred in another state or jurisdiction, such as Washington, DC or Maryland, may result in points being assessed against a Virginia driver's license.
If the reckless driving offense resulted in the death of another, and the driver was operating their vehicle without a valid driver's license, they may be found guilty of a Class 6 felony. In such an instance, it is even more important to consult with a Virginia Beach reckless driving lawyer. Those charged with reckless driving in connection with use of a handheld personal device while driving face a mandatory minimum fine of $250. According to Code Section 26.2-1078.1, use of a device includes:
Typing numbers, letters, or text as a means of communication with another person, or;
Reading any email or text.
Instances in which the handheld device charge would not apply include, but are not limited to:
Operators of emergency vehicles performing official duties
Anyone using a handheld device to report an emergency.
Reckless Driving Aftermath
The more serious issues, however, often come long after the sentence is served. Although the conviction is eventually removed from the individual's DMV record after 11 years, a criminal conviction will remain on the person's record indefinitely. Having a criminal record can keep a person from passing many background checks required for a number of jobs and professional fields. It can also hinder one's ability to qualify for rental agreements and some bank loans.
Virginia Beach Defense Group Future Resources Scholarship Winner
The Virginia Beach Defense Group Future Resources Scholarship is a great opportunity for students interested in the protection of natural resources. We are pleased to announce Kevin Hollerbach as the 2016 Future Resources Scholarship winner. Kevin has devoted a great deal of his time to demonstrate the importance of preservation and conservation of our natural resources. Learn more about Kevin Hollerbach.
Client Reviews
A Reckless Driving Client
Ms. Mendez helped me with my reckless driving ticket. She asked me to do a lot of things before my court date that she said would help with my case. Thanks to her advice and representation, my ticket was reduced to improper driving, and my criminal record was spared. I'm very grateful for her services. Thank you very much.